Seersucker fabric is a light woven fabric renowned for its breathability and moisture-wicking properties. The texture of the seersucker weave helps keep the fabric off the skin, which adds to its breathability. This also inherently makes it a bit more wrinkle-resistant, and easier to pack up for summer traveling.
Seersucker has its origins in India and became very popular with the British because it was a great fabric option for warmer climates. It became a staple of fashion in the southern United States for the same reason.
When most people think of Seersucker, they think of the classic blue-and-white striped blazers. While this is the traditional look, many modern brands prefer a subtle check or a solid.
Example Fabric: Stapleford Seersucker Cream*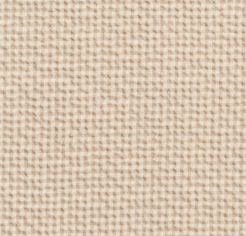 *This is a seasonal fabric from our Spring/Summer 2020 line and may no longer be available. Keep your eye on our Spring/Summer collections for more seersucker options.