A Houndstooth is a modified check pattern of alternating colors and is often referred to as a broken check.
Originating among shepherds in Scotland in the 1800s and used for woven wool outer garments, by the 1930s it had become a staple of high fashion and a favorite pattern of Christian Dior.
Today Houndstooth can be used to bridge the gap between these two worlds. It is a great pattern to mix and match with other separates or as a full two-piece or three-piece suit. Shop the collection here.
Example Swatch: Malvern Houndstooth Black and White*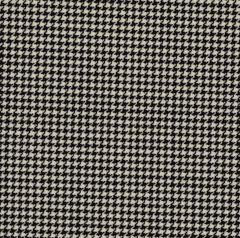 *Please note this is a seasonal fabric. We do not currently carry a Houndstooth in our ongoing collection, but often carry them as part of our Fall/Winter Seasonal collections.